Only 1.3 km from the Simuni Marina. Reserve your glamping plot now. Handovers will take place from autumn 2021. Very good price / performance ratio.
A tavern with a large grill can be reached on foot in a few steps directly from the property. Dogs are welcome, we are building an outdoor dog pool for our customers and guests at the entrance to the property.
Lodge & property from 145,000 euros.
Really nice with pools, well-tended garden with automatic irrigation and dry stone walls approx. 200,000 euros. We keep some properties on our own book as a long-term investor. We are not only project developers and sellers, but also your long-term direct neighbor and permanent contact.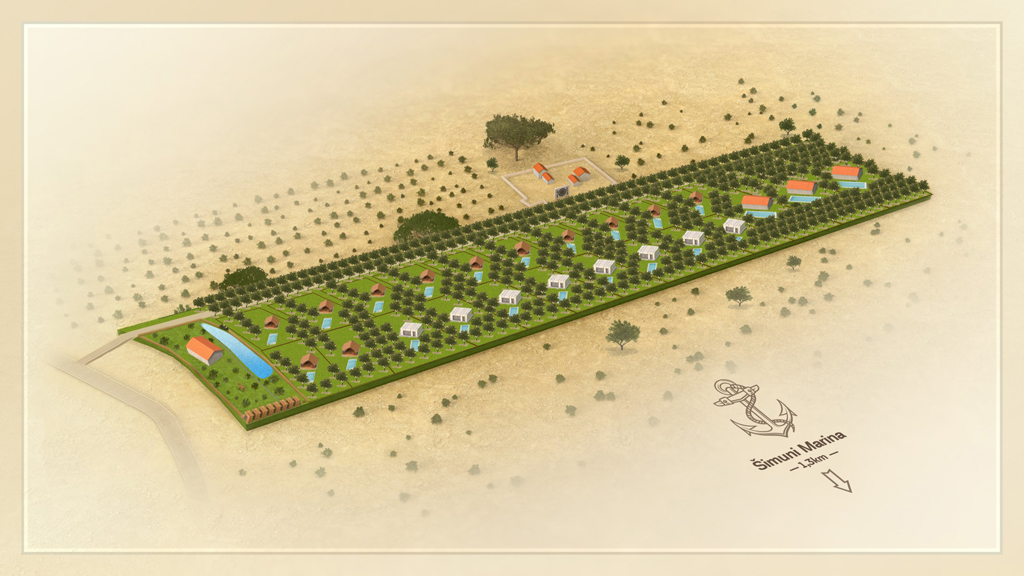 FOLLOW-UP PROJECTS 2022 – 2024
After the individual plots have been sold, we will expand the project in a northerly direction. It is possible to prepare around 50 more plots for development.
All connected to an already laid out olive tree avenue with LED lighting of each olive tree.
Large olive plantation with approx. 500,000 square meters on a high plateau in the hinterland of Benkovac. Only 20 minutes to the sea in Biograd. The first young olive trees came into the ground in early autumn 2015 when they were 2.5 years old and are now real, small trees. Expansion with glamping lodges and a few stone house villas from 2022.
Few individual plots with 10,000 square meters with approx. 150 olive trees on the southern border with a fantastic view of green valleys and the offshore islands of the Kornati.
Land prices approx. 25 euros / sqm – not yet finalized.
No maintenance of the property! We'll do it for you. You can feel like a Land Lord. The house sizes will be in front. approx. 135 square meters. Construction costs high end approx. 3,500 euros / sqm.
You are welcome to bring your own horses. We build a stable and take care of the animals even in your absence. Numerous riding trails directly from the property.